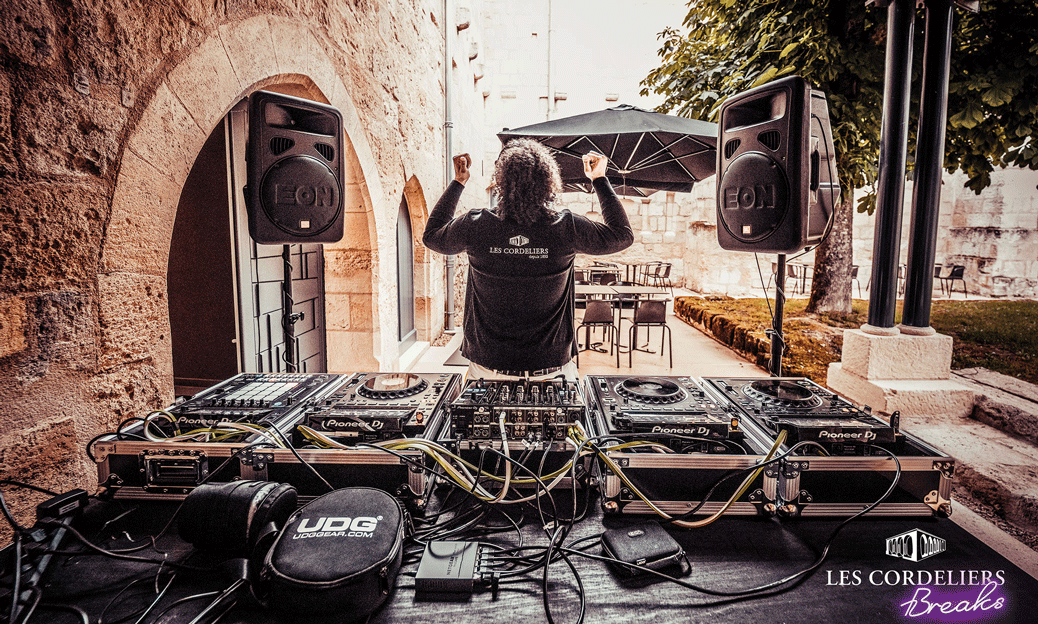 Cordeliers BREAKS evenings
Friendly and relaxed DJ concert evenings with music at the Cloître des Cordeliers, ideal for a late-day afterwork with colleagues, a romantic aperitif or a beautiful festive evening with friends or family. Come and discover our magical place renowned for its blond stone architecture with 2000 m² of outdoor space accompanied by a cup of vintage Cordeliers crémant or a Cordeliers picnic basket.
Our programming
Find DJ BALATA every evening of the summer:
Monday to Wednesday: 7 p.m. to 9 p.m.
Thursday to Saturday: 7 p.m. to 11 p.m.
Sunday: 7 p.m. to 9 p.m.
DJ Balata, a multi-faceted Belgian artist oscillating between AfroHouse, Melodic House and Organic House and having signed on Bob Sinclar's label "Yellow Sinclar Production" for the famous track "Otro Lugar", collaborating with Antoine Clamaran or even remixing for the famous Danny Tenaglia.
Our next events: 3 exclusive dates of electronic evenings!
July 24, 2021 from 5 p.m. to 11 p.m. with Bordeaux Open Air
August 14, 2021 from 5 p.m. to 11 p.m. with TPLT
September 18, 2021 from 5 p.m. to 11 p.m. with KRAKATOA
Announcement of the names of the artists very soon ...
Booking of the Bordeaux-Saint-Emilion bus
Come and participate in the electro evenings of Cordeliers Breaks! We suggest you drive yourself to be able to enjoy the evening in peace.
"Vincent" bus leaving from Bordeaux Quinconces, allées de Bristol. Meet at 5.15 p.m. for an arrival at 6.15 p.m. at the Cloître des Cordeliers, return departure at 11:15 p.m. for an arrival at 12:15 a.m. in Bordeaux Quinconces.
A glass of Crémant Vintage blanc brut will be offered to you upon presentation of your e-ticket on arrival at the Cordeliers wine bar.
Within the limit of available seats !